One Farm by WAAYB CBD Review
One Farm by WAAYB CBD
Take a peek at our One Farm review! We discuss the company, production of CBD oil, best products and more.
PROS
USDA-Certified family farm
Toxic Solvent Free Supercritical CO2 Extraction
Full-Spectrum CBD
Very transparent company
Wide range of products
Who is One Farm by WAAYB?
One Farm is the new name of CBD company, WAAYB, which was founded back in 2017. According to One Farm, their mission is to create all-organic, safe, and non-toxic CBD products free of:
Pesticides
Heavy metals
Solvents
How does One Farm do it? They have ultimate control over their products– from cultivating, harvesting, and extracting to bottling and selling, this company oversees every step of the production process.
Even better, One Farm boasts one of the few USDA certified-organic products out there. Don't believe us? You can see the results for yourself with the company's publicly-available CBD lab testing results.
back to menu ↑
One Farm Production Method
One Farm produces CBD out of their USDA-certified family farm in Boulder County, Colorado. The company says that this land is ideal for farming hemp, dubbed the Napa Valley of Hemp for its ultimate growing conditions for their organic hemp.
After growing their home-grown hemp, the company harvests it– by hand! That goes to show how devoted One Farm is to keeping their entire process as pure and in-house as possible.
Most importantly, One Farm uses a supercritical CO2 method to extract their organic CBD products. This avoids any toxins or harsh chemicals left over after other forms of extraction, such as butane or propane methods.
back to menu ↑
One Farm by WAAYB Review
Transparency. Quality. Aesthetically pleasing.
These are three adjectives that kept popping up in our minds as we reviewed One Farm's products. Yes, most CBD companies make promises about transparency and quality these days (the good ones, anyway). Yet One Farm is the only company we've come across that was actually founded on these principles.
And, these guys really practice what they preach. From the soil they grow their hemp into the irrigation system they use to water it, One Farm goes the extra mile to be low-impact.
We've reviewed CBD companies before that claim to publish third-party testing results, but then those results are nowhere to be found! That's not One Farm.
In fact, One Farm has the easiest-to-navigate CBD test results page we've come across. When you order one of their products, checking the lab results is as easy as matching an 8-digit number on your bottle to the test results on their site.
That's right: One Farm tests every single batch of CBD they put out. If that isn't enough to pique your interest, we honestly don't know what will.
The one (and only!) reason we think you should avoid One Farm? The majority of their products are full-spectrum to take advantage of other cannabinoid benefits. Yes, that means they contain traces of THC (<0.3%), which isn't ideal for CBD lovers concerned about psychotoxicity (AKA feeling "high") or getting drug tested.
back to menu ↑
One Farm Products
With their elegant packaging and all-organic products, browsing through One Farm's CBD products is a truly high-end experience. The only downside to all that luxury is the price tag. Still, One Farm makes a wide enough variety of products that there's something for every CBD lover– even those on a budget.
back to menu ↑
CBD Oil
One Farm's full-spectrum CBD oil is USDA-certified organic. It comes in 4 different strengths, with the higher concentration oils offered in 2 different sizes:
10 mg/mL ($46.99)
20 mg/mL ($69.99)
30 mg/mL strength 30 mL bottle ($87.99)
30 mg/mL strength 60 mL bottle ($139.99)
40 mg/mL strength 30 mL bottle ($99.99)
40 mg/mL strength 60 mL bottle ($159.99)
For those who like a little flavor with their CBD morning pick me up, One Farm has you covered. Choose from  cinnamon, lemon, and mint. Or, the company offers unflavored oil if you prefer to keep things natural.
One last thing: keep in mind that One Farm's CBD oil products are full-spectrum, which means they will have traces of THC.
ONEFARM Organics CBD Oil
ONEFARM Organics 60mL Organic CBD Oil
back to menu ↑
CBD Lip Balm
Another USDA-certified organic product, One Farm's CBD lip balm is one of their more unique offerings. The .17oz container holds 50 mg of organic CBD along with other organic moisturizers like beeswax, shea butter, and jojoba oil.
With the added benefits of lavender, this lip balm is just as nourishing as it is soothing for even the driest chapped lips. And at only $9.99, we think this One Farm product is an absolute steal.
back to menu ↑
CBD Relief Cream
One Farm's breathtakingly-packaged USDA certified-organic CBD relief cream offers up to 50 mg CBD per pump. This cream combines anti-inflammatory and anti-bacterial humectants, turmeric and black pepper, with moisturizing arnica extract for ultimate dry skin relief.
back to menu ↑
Water-Soluble CBD
Here at CBD-Reviewed, we review a lot of CBD companies. So, rarely does a company come up with a product that surprises us. One Farm's USDA certified-organic water-soluble CBD drops, though, are an exception to this rule.
These 4oz bottles of 20 mg/ml concentrated CBD were created to dissolve in sports drinks, smoothies, and other healthy beverages. While this product will cost you (it comes in one size at $84.99), the company does offer a 10% discount for all new subscribers.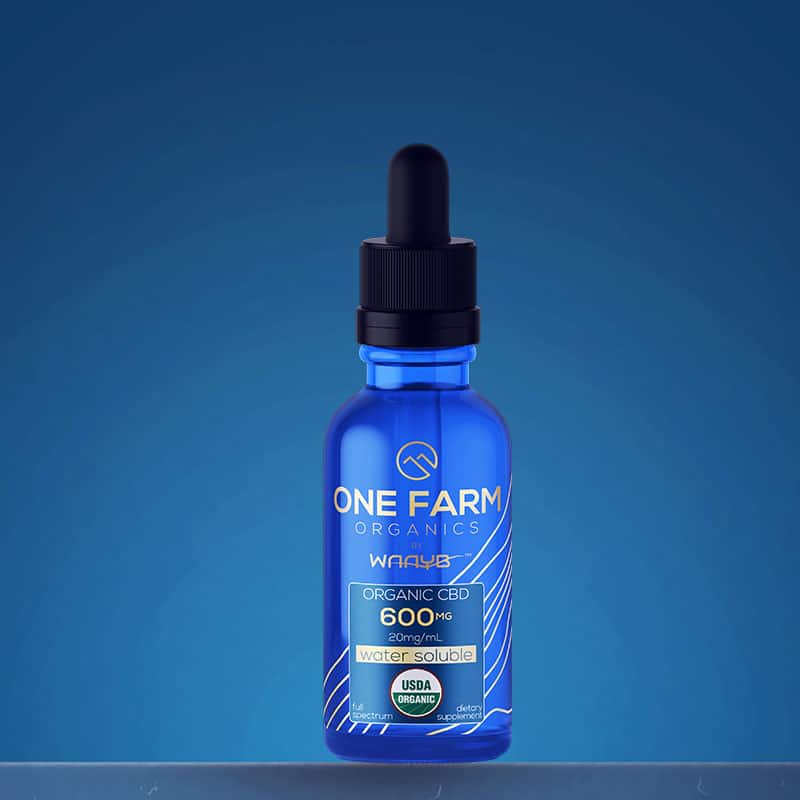 ONEFARM Organic Water Soluble CBD
Support your active lifestyle with ONEFARM Organics Water Soluble CBD.
back to menu ↑
CBD Softgels
While One Farm's full-spectrum CBD soft-gels are the only product they sell that's not USDA certified-organic, we can guess why: it's difficult and pricey to source certified-organic soft gel packaging. Yet, the CBD inside is the same high-end organic oil we've come to expect from the brand.
Plus, this one of the highest value items you can find from One Farm. With two different sizes and 20 mg of CBD per capsule, the price is right. You'll pay $53.99 for a pack of 30 soft gels or $96.99 for a bottle of 60 gels.
ONEFARM Organic Softgels
ONEFARM Organics CBD Capsules with 20mg CBD
back to menu ↑
Pet CBD
Last but certainly not least, One Farm is yet another CBD company that loves your pets as much as you do. They offer one of the only USDA certified-organic pet CBD products on the market. And, with full-spectrum oil strengths ranging from 3.3 mg of CBD per serving ($24.99) to 30 mg of CBD per serving ($87.99), there's a product for all pet shapes and sizes.
As a side note: we also love that One Farm recommends you speak to your veterinarian before choosing a strength for your pet. Promoting responsible consumption of CBD products is always a win in our book.
back to menu ↑
The Final Word on One Farm by WAAYB
If you can't tell by our raving review already, we think One Farm by WAAYB is a CBD company to watch in 2020. Considering their focus on high-end organic products and 100% transparency, we feel confident recommending their products to you, too.
Want to compare One Farm to other CBD companies we love? Browse more of our top-rated reviews so we can help you compare and contrast the brands and products you– and we– love most!